In The News
May 11, 2016
Secure Cash & Transport Association Selects Commander Kirk Lippold, USN (Ret.) as Keynote Speaker for 2016 Conference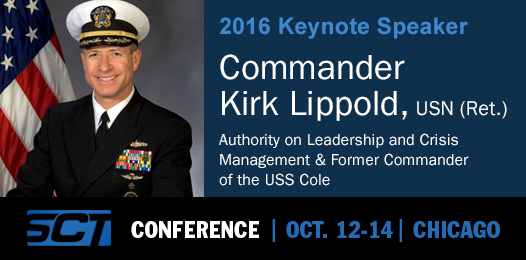 PURCELLVILLE, VA (MAY 11, 2016) - The Secure Cash & Transport Association (SCTA), a nonprofit group representing professionals in ATM servicing, cash handling and processing, transportation, and safekeeping of cash and coin throughout North America, announces the selection of Commander Kirk Lippold, USN (Ret.), as the keynote speaker for its 2016 conference. Lippold is an authority on leadership and crisis management and former commander of the USS Cole. The SCTA conference takes place October 12-14, 2016 at the Hyatt Chicago Magnificent Mile.
Lippold is known for his unflappable leadership as demonstrated during his command of the USS Cole when it was the target of a deadly terrorist attack by Al Qaeda, 11 months before the 9/11 attacks on New York and Washington, D.C.
With insights from his military and corporate legacy, Former Commander Lippold will share lessons learned about mitigating crisis, developing teams, and leading in the most challenging environments. His personal account is recorded in: Front Burner: Al Qaeda's Attack on the USS Cole.
Commander Lippold will deliver the keynote address at the 2016 SCTA conference. In his address he will offer perspective on the increasingly complex financial and security threats appearing more regularly across the globe. Grounded in strong leadership, it is vital for organizations to learn from past crises and effectively adapt in both real time, as well as in preparation for the future.
The SCTA 2016 conference will feature informative sessions, networking opportunities, and exhibits. A preliminary agenda includes sessions on the Houston area crime wave, ATM fraud, active shooter management, social engineering, and other topics important for the cash transport and management industry.
The conference is designed to support the Secure Cash & Transport Association's mission to protect, strengthen, and unite the cash-in-transit and cash servicing industries. Details about the event, registration information, and association membership details can be found at the event website at scta.securetransportassociation.org.
ABOUT THE SECURE CASH & TRANSPORT ASSOCIATION (SCTA)
The Secure Cash & Transport Association (SCTA) is a non-profit association established in 2013 to represent the shared interests of professionals and stakeholders in ATM servicing, cash handling/processing, transportation, and safekeeping of cash and coin throughout North America. Active founding members and current board representation include Cash Connect-ATM Solutions by WSFS Bank, Davis Bancorp, Garda Cash Logistics, Great American Insurance Group Fidelity/Crime Division, Griffin Incorporated, Loomis, Lowers Risk Group, Marshall & Sterling, Rochester Armored Car Company, Inc., Elan, and Willis Fine Art, Jewelry & Specie USA. Industry groups represented by the association include armored operators, insurance providers, truck builders, financial institutions, ATM cash providers, coin wrappers, security surveys and compliance providers, and loss adjustors.
« Back to News