In The News
September 27, 2018
Secure Cash and Transport Association to Welcome Cash Industry Stakeholders to Chicago for Sixth Annual Conference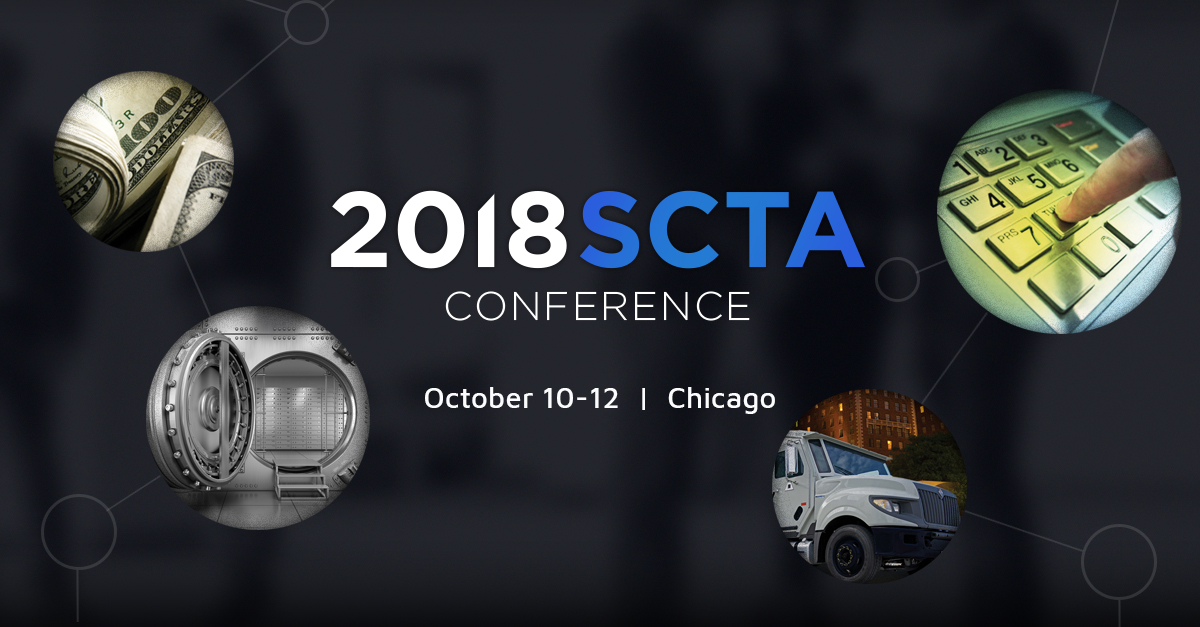 The Secure Cash & Transport Association (SCTA), a nonprofit group representing professionals in ATM servicing, cash handling and processing, transportation, and safekeeping of cash and coin throughout North America, is set to welcome more than 200 attendees to its sixth annual conference in Chicago, October 10-12, 2018.
The SCTA's 2018 conference will feature leading experts in the fields of cash-in-transit, banking, retail, security, cybersecurity and risk, and cash servicing, covering a wide range of important topics. The theme for this year's event is "State of Change" and it features global futurist and Chief Unlearning Officer, Jack Uldrich, as the keynote speaker. An expert in change management leadership, Uldrich will ignite compelling conversations about ways to use emerging trends to navigate the unprecedented pace of change the cash industry is facing.
SCTA president, Mark Lowers, remarks: "We see enormous changes occurring in the retail industry, the banking industry, the ATM industry, and the CIT industry. The velocity of these changes is compelling and provides both challenges and opportunities. It is with this in mind, we felt the theme for this year's conference, 'State of Change,' was appropriate."
This year, the SCTA also welcomes back Admiral Eric T. Olson, US Navy (Ret.). Admiral Olson will discuss global changes that are forcing the industry to enhance its defenses and how to adapt to technology changes that increase vulnerabilities within the ever-present cyber threat to commerce.
Joining Uldrich and Admiral Olson is a deep lineup of industry thought leaders and experts who comprise two thought-provoking and informative days of sessions and panel discussions. The full agenda for the event can be found at scta.securetransportassociation.org/agenda.
The 2018 SCTA Conference is designed to support the Secure Cash & Transport Association's overarching mission to protect, strengthen, and unite the cash-in-transit and cash servicing industries. Details about the event, registration information, and association membership details can be found at the event website at scta.securetransportassociation.org.
ABOUT THE SECURE CASH & TRANSPORT ASSOCIATION (SCTA) The Secure Cash & Transport Association (SCTA) is a non-profit association established in 2013 to represent the shared interests of professionals and stakeholders in ATM servicing, cash handling/processing, transportation, and safekeeping of cash and coin throughout North America. Active founding members and current board representation include Cash Connect-ATM Solutions by WSFS Bank, Davis Bancorp, Garda Cash Logistics, Great American Insurance Group Fidelity/Crime Division, Griffin Incorporated, Loomis, Lowers Risk Group, Marshall & Sterling, Rochester Armored Car Company, Inc., Elan, and Willis Fine Art, Jewelry & Specie USA. Industry groups represented by the association include armored operators, insurance providers, truck builders, financial institutions, ATM cash providers, coin wrappers, security surveys and compliance providers, and loss adjustors.
« Back to News