Latest Updates
July 24, 2020
Cash and COVID-19: Safe, Secure, Inclusive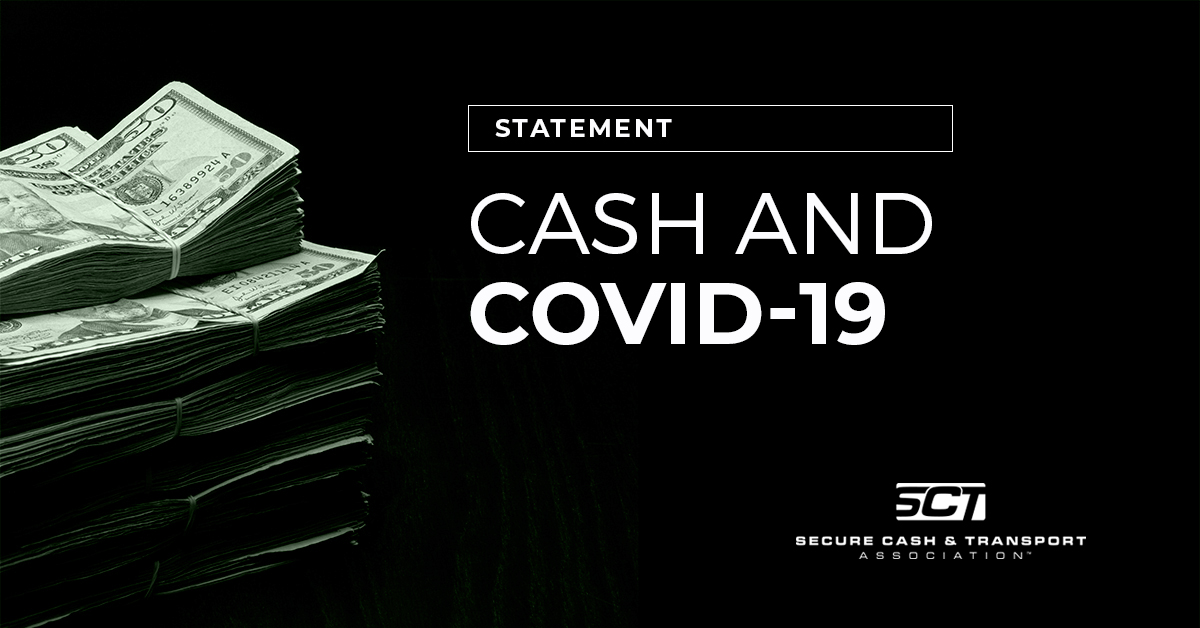 A Statement from the Secure Cash and Transport Association
The Secure Cash and Transport Association, an industry association representing the interests of the secure logistics industry in North America, expresses our concern over inaccurate links reported between the use of cash and the spread of COVID-19. Research supports the idea that cash is safe to use and is not considered a significant risk for transmitting the novel coronavirus. Moreover, cash is a critical aspect of the payments landscape, serving as a secure, universal, inclusive payment option for all members of society.
Health and Safety
From a health and safety standpoint, there is a growing body of research and medical opinion to indicate the use of cash is not a significant concern as it relates to relative cleanliness and the transmission of COVID-19.
After being misquoted in the British media as saying banknotes may be spreading the coronavirus, World Health Organization (WHO) spokeswoman Fadela Chaib clarified, "WHO did NOT say banknotes would transmit COVID-19, nor have we issued any warnings or statements about this. We were asked if we thought banknotes could transmit COVID-19 and we said you should wash your hands after handling money, especially if handling or eating food." Doing so is "good hygiene practice," Chaib added.
Likewise, Dr. Christine Tait-Burkard, an expert in infection and immunity at the Roslin Institute at the University of Edinburgh, says, "The amount of virus that is potentially on an inanimate object is usually very small." Though banknotes can theoretically carry the coronavirus, "Unless someone is using a bank note to sneeze in," the risk is small. As for coins, she notes, "Coins are actually very bad environments for viruses to survive."
The 'dirtiness' of cash is another argument made in support of a cashless economy. A 2019 LendEDU study addressed this concern using a scientific device that tested for the number of germs on a given surface. As part of their study, they tested the front and back of 41 different debit and credit cards, 27 different bills, and 12 different coins, and calculated the average germ scores for each payment. Their results found debit and credit cards were dirtier in terms of number of germs than cash and coins.
In April 2020, the Bank of England announced it was processing banknotes as normal after concluding, "Like any other surface that large numbers of people come into contact with, banknotes can carry bacteria or viruses. However, the risk posed by handling a banknote is no greater than touching any other common surface, such as handrails, door knobs or credit cards."
Additionally, the International Currency Association on July 2, 2020, noted , "Several central banks in Europe and around the world, including the European Central Bank, have now confirmed that cash is safe to use and there is no evidence that cash would transmit the virus. Countless immunologists, virologists and other medical experts have echoed this message."
Universal, Inclusive Payment Option
While cash is no longer the top payment choice among U.S. consumers, it is the second most-used payment instrument behind debit cards, and is used in more than one quarter of transactions, according to the Federal Reserve Bank of San Francisco (2019). For the 25% of the U.S. population that is currently underbanked or unbanked, and for those who choose cash as a secure, anonymous form of payment, cash is a vital method of payment.
We stand with the International Currency Association (ICA, representing the currency industry), CashEssentials (a pro-cash policy group), the International Security Ligue (representing the private security sector), the European Security Transport Association (ESTA, the European cash management companies association), the ATM Industry Association (a not-for-profit trade association representing the international ATM industry) and Cash Matters (an advocacy movement for cash) in their efforts to continue to supply cash in an uninterrupted and safe way, and advocate globally for cash's role at the heart of our economies.
Common Sense Cash Handling Protocols for COVID-19
It is always appropriate to take precautions to maintain overall health and safety whether handling cash, payment cards, or even door handles. The Centers for Disease Control and Prevention (CDC) currently believes that COVID-19 mainly spreads from person to person in close proximity, generally through respiratory droplets.
Not surprisingly, the CDC recommends bank employees apply social distancing, use facial coverings, cover coughs and sneezes, and practice good hygiene. For financial, retail and other cash-handling services, they also advise the following:
Clean and disinfect frequently touched surfaces, paying particular attention to break rooms, locker rooms, vending machines, computer terminals, cash drawers, service counters, ATMs, door handles, customer deposit/withdrawal slip stations, and drive-through delivery document carrier tubes.
Wash your hands often with soap and water for at least 20 seconds, especially after handling food, using the bathroom, or handling documents, cash or contact with high-touch surfaces.
Use a hand sanitizer with at least 60% alcohol if soap and water aren't available.
Do not touch your eyes, nose, or mouth.
While we support and acknowledge that consumers should have access to all payment methods, we strongly affirm the critical importance of cash in today's society. With evidence to support the health and safety aspects of cash and common-sense practices such as hand washing to help prevent the spread of all viruses, cash can continue to serve its role in the payments landscape.
We will continue to stand with the members of the Secure Cash and Transport Association who are doing their part to continue to promote the health and safety of their workers, customers, and the public at large.
« Back to News