Latest Updates
June 29, 2022
The Secure Cash and Transport Association Applauds the Legislative Progress of the Payment Choice Act
The Payment Choice Act passed the House of Representatives in a historic bipartisan vote 224-198.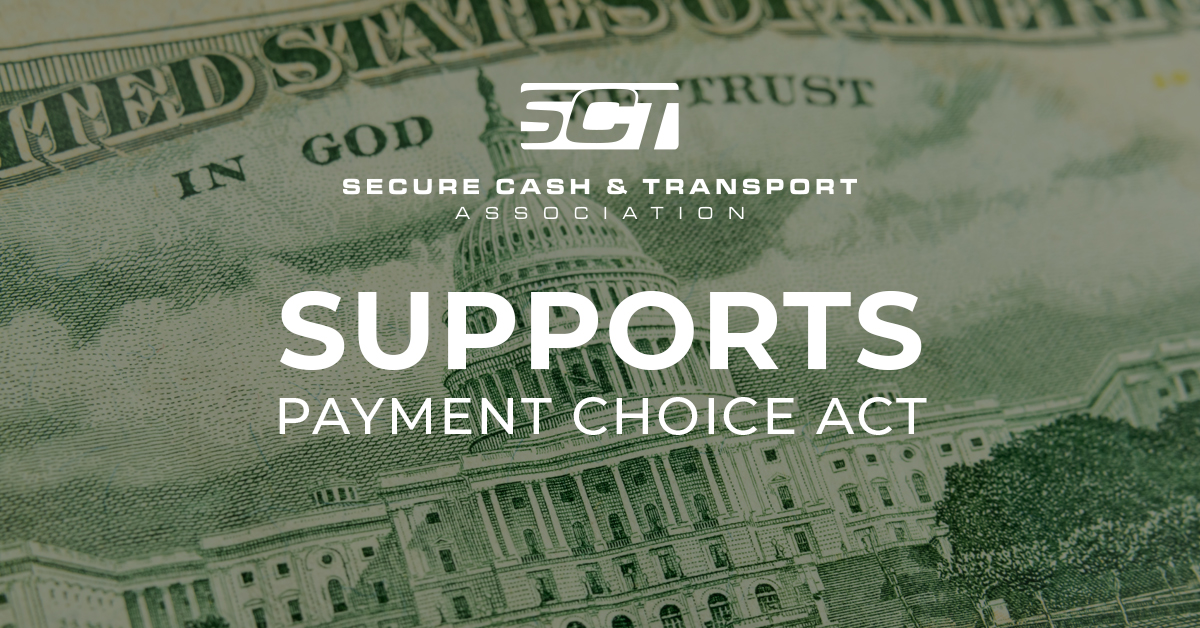 June 29, 2022 (Purcellville, VA) The Secure Cash and Transport Association (SCTA), an industry association representing the interests of the secure logistics industry in North America, applauds the passing of the Payment Choice Act in the House of Representatives. The bill, which states, "every consumer has the right to use cash at retail businesses who accept in-person payments," passed on June 15, 2022, with a historic bipartisan vote of 224-198 in the lower chamber of Congress. Similar bills have already been passed in New Jersey, Colorado, San Francisco, and New York. Around the world, Spain, France, and China impose mandatory acceptance of cash.
The Payment Choice Act, HR 2534, also known as the Federal Reserve Racial and Economic Equity Act, was introduced by Rep. Donald M. Payne, Jr., and makes it mandatory to accept cash in physical locations for amounts under $2,000 but not $100 bills. "At least 55 million Americans rely on cash as their main form of payment for everything from rent to their household necessities," said Payne.
The legislation requires the Federal Reserve Board to support the elimination of racial and ethnic disparities in employment, income, wealth, and access to affordable credit. While the overall use of cash has declined in recent years, preserving cash as a form of payment is an important aspect of the bill considering low-income and unbanked consumers still use cash for as much as 40% of their spending.
The SCTA previously released a statement expressing concern over inaccurate links reported between the use of cash and the spread of COVID-19. In its statements, the SCTA also highlighted the role of cash as a critical aspect of the payments landscape, serving as a secure, universal, inclusive payment option for all members of society.
The SCTA will continue to work on behalf of the secure logistics industry to gain the support of the Senate and President. To secure the ultimate passage of the Payment Choice Act and ensure it is signed into law, the SCTA calls on all members to contact their elected US Senators to request their endorsement and support of this essential legislation.
About the Secure Cash & Transport Association (SCTA)
The Secure Cash & Transport Association (SCTA) is a non-profit association established in 2013 to represent the shared interests of professionals in ATM servicing, cash handling/processing, transportation, and safekeeping of cash and coin throughout North America. Founding members include Cash Connect-ATM Solutions by WSFS Bank, Coin Wrap, Inc., Davis Bancorp, Great American Insurance Group Fidelity/Crime Division, Griffin Incorporated, Loomis, Lowers Risk Group, Marshall & Sterling, Rochester Armored Car Company, Inc., U.S. Bank, and Willis Fine Art and Jewelry & Specie USA. Industry groups represented by the association include armored operators, insurance providers, truck builders, financial institutions, ATM cash providers, coin wrappers, security surveys and compliance providers, retailers, and loss adjusters.
Members of the Board of Directors for the Secure Cash & Transport Association include: President of the Board, Mark Lowers, CEO, Lowers Risk Group; Vice President of the Board, Antonio Palmiotto, Executive Chairman, FAJS, Willis of New York, Inc.; Secretary of the Board, Michael Gaul, EVP Marketing, Lowers Risk Group; Jason Kyd, VP Specie, Great American Insurance Group; Joseph Shea, President, Rochester Armored Car; J.R. Davis III, Senior Vice President, Davis Bancorp; Laura Jones, Senior VP, ATM & Debit Services, U.S. Bank; Randall Sheltra, VP, Safety, Loomis U.S.; Todd Worthey, VP, U.S. Risk Management, Brink's, Inc.; Suzanne Ricci, SVP & Director of Strategic Initiatives, Cash Connect; Jim Petit, President, G+D Currency Technology America; Vincent Modarelli, SVP, Head of Business Development & Client Relations, US Cash Svs GardaWorld; Stephen Blount, President Smith + Griffin; and David Rydeen, Sr Director of Risk Management, Fry Cook & Cashier Raising Cane's.
Learn more at securetransportassociation.org.
« Back to News